Albiate Washed Indigo Mid Weight Denim
$150
Select Shirt Size
Collar
i
Don't worry about shrinkage — we'll account for that automatically based on fabric choice. You can fine-tune your collar size down to 0.1" or adjust any of the 16 other customizable size parameters when you create a custom size.
Sleeve
i
Sleeve length is measured from the center back to the edge of the shoulder and down to the end of the cuff. Fine-tune your sleeve length down to 0.1" or adjust any of the 16 other customizable size parameters when you create a custom size.
Fit
i
Slim Fit will be nicely fitted, yet comfortable. Super Slim Fit is for those that prefer a particularly trim fit and are not bothered by slight tightness or limited range of motion. Classic Fit is a more generous, roomy fit that won't hug the body closely.
Shirt Style Details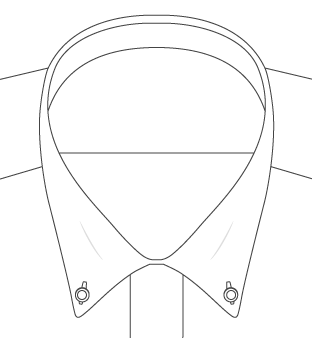 Soft Ivy Button Down Collar
Collar roll. And plenty of it. This decidedly casual collar style is more expressive than most modern button down collars.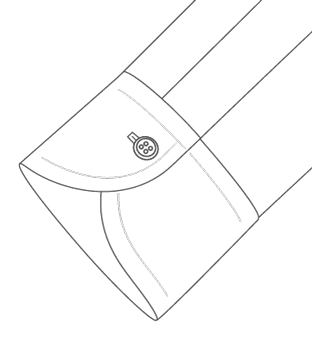 Soft Long One Button Cuff
The same shape as our long one button barrel, but without the stiff fusing. Soft, comfortable, and a good match for casual style shirts.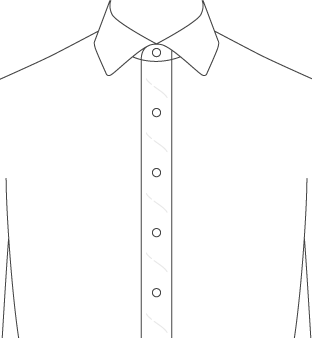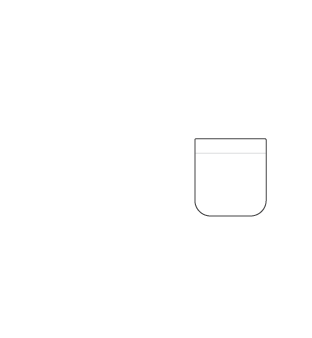 Soft Front Placket, Rounded Pocket
Great for casual shirts. A soft, unfused front placket makes for a relaxed look.
Buttons

Roma Buttons i

A beautiful off-white faux mother-of-pearl button. Made from a high quality plastic resin. Very durable.

Bottom Hem

Rounded i

A 2" curved front and back shirttail hem with reinforced side seam gussets.
Change any of these shirt details, add a monogram, and more by customizing this shirt.
Fabric Info
Fabric Description
A classic and versatile style.
This remarkably soft 80s 2-ply denim is a great year-round fabric that has a beautiful drape, and it's ideal for those who like a denim shirt that can work under a sport coat. The soft yet striking medium blue color results from the reaction of the indigo dye with a light bleach wash, and it's a unique yet understated tone that's incredibly easy to dress up or down.
From sourcing the perfect denim from a 185-year-old mill in Italy to testing washes with our factory for months on end, we labor over every detail of our washed indigo shirts. Each of them starts out as a plain or textured weave fabric that's been dyed heavily with indigo. After being cut and sewn, the shirts are then garment washed using either a light enzyme, soda, or bleaching process. It's this process that gives each shirt its beautiful color and unique fading around the seams. While garment washed indigo and denim shirts are a popular product in the ready-to-wear market, they haven't previously been available in a custom fit or design due to the bulk production required for the washing process. We've worked closely with our suppliers to bring you the first truly custom garment washed indigo and denim shirts on the market. Premium, carefully crafted shirts, made to your exact specifications. Learn more about our washed indigo and denim shirts here.
Recommended Styling: Try this one with our Soft English Spread collar, no placket, and Slate Horn buttons for a clean, minimal loo. Note that, due to the special nature of the garment washing process, this fabric can only be made using soft, unfused collars, cuffs, and fronts/plackets.
Color & Pattern

Performance
4.81 / 5 Average rating
Recommended by 94%.
"Better than I thought"

Gianfranco in Brentwood, TN

"The fabric is a lot shinier than I expected, so not ideal for a casual shirt."

Michael in AUSTIN, TX

"A little more sheen than I was expecting, but very nice."

Stephen in Brooklyn, NY

"My current go-to and favorite shirt to wear right now. I had my eye on this fabric for about a month or two before pulling the trigger and glad I did."

Ethan in SAN ANTONIO, TX

"The weight, color and hand are very good. However, there was an unexpected i.e., not clear from the pics) shine to the finish, and, after a couple of washings, it stiIl remains. I prefer a matte finish in "denim" shirt."

Paul in San Anselmo, CA

"Fabric is proper expected weight. Cam be worn in casual and semi formal settings"

Kyle in Cypress, TX

"Beautiful, soft fabric."

Chuck in New York, NY

"Great indigo fabric"

erik in Hobe Sound, FL

"Fabric not as rich as expected. But fit us excellent."

Kenneth in West Bloomfield, MI

"Very comfortable fabric. Shirt does show wrinkles but easily touched up with an iron"

Scott in SCOTTSDALE, AZ

"really nice denim color!"

Scott in Cincinnati, OH

"Dressy denim that develops more character with each wash. I've now worn this shirt dozens of times. It has taken on a nearly perfect, subtle fade. It keeps getting better and better with every wearing."

tobyn in st petersburg, FL

"Out of the package, I thought the shirt smelled like Vietnam. I served in Vietnam and have spent a fair amount of time there since, so it didn't bother me but some of your other customers might be put off."

Lawrence in Alexandria, VA

"Luxury is all I can say."

Scott in Lancaster, PA

"Fabric is nice but not as pictured."

Brandon in SANTA BARBARA, CA

"very nice fabric. can you recommend other similar shirts"

John in Mill Valley, CA

"Nice fabric"

Wesley in Lenexa, KS

"Love the color and luster"

Richard in Edgewater, NJ

"Great fabric!"

Paul in Seaside, CA

"A beautiful color and hand feel; one of my favorite shirts so far."

Seth in CHARLESTON, SC

"This shirt's sleeves were way longer than the other shirt in the same size. The fabric, however, is nice."

Konstantin in New York, NY

"Great denim shirt!"

Jeffrey in PITTSBURGH, PA

"super soft, great sheen"

Chris in Chicago, IL

"No complaints"

Gene in SAGINAW, MI

"This is a nice, light denim that pairs well with a sport coat. Highly recommend."

Chris in THOUSAND OAKS, CA

"Love this fabric. This shirt is one of my favourites. On the lighter side for a denim, drapes well and looks great."

Shane in Calgary, Alberta

"Good"

Gabe in Rouse Hill, NSW

"cool shirt, love it"

Charles in Bellaire, TX

"Love how it is doesn't wrinkle and how light and breezy it u I s."

Wiliam in Brooklyn, NY

"What I've been looking for for years."

Greg in VENTURA, CA

"It's denim but not as heavy as many. Makes for a nice casual shirt that can be dressed up or down. Looking forward to seeing how it ages"

Mike in Montrose, NY

"This is a great fabric, looks good and has a nice, comfortable feel."

Michael in Pagosa Springs, CO

"Love the rugged look."

William in Locust Valley, NY

"Somehow study and lightweight at the same time. Would not call this 'denim' in the (American) classic sense of, say, western shirts of days gone by. Very sophisticated, beautiful fabric."

John in OAKLAND, CA

"Looks great"

Michael in New York, NY

"Fabric has a light sheen and is nice overall."

Maxim in Hoboken, NJ

"Looks good, fabric not as comfortable as some of the other denims."

Toby in Reno, NV

"Well made"

EDWIN in GREENVILLE, SC

"Great shirt for in between casual and formal"

Tristan in CHICAGO, IL

"Perfect shade of blue"

Eugene in New York, NY

"Too even, I was looking for a more rugged jean shirt"

John in Roslyn Heights, NY

"This denim is lightweight and soft. Perfect for dress casual and layering."

Larry in Wichita, KS

"Wonderful color"

Howard in Williamsburg, VA

"Great drape to this lightweight denim."

Darrell in Missouri City, TX

"My favorite washed indigo !"

Michael in NEW YORK, NY

"As I said above, I loved the heavier weight indigo the best but both were beautiful and fit perfectly."

Daniel in Palo Alto, CA

"Awesome, but indeed a bit shiny"

Joseph in Gallup, NM

"The colour is exceptional, not as heavy as I had imagined wich is excellent!"

Bruce in Calgary, Alberta

"Wrinkles more easily than it would appear. Lighter weight than expected."

Steve in CLIVE, IA

"Very attractive and comfortable fabric."

Scott in Mercer Island, WA

"Quite shiny and light-weight – wouldn't be my choice for a denim shirt."

Benjamin in Long Lake, MN

"Fabric is a bit darker in real life than picture."

Tim in Sewickley, PA

"Great"

Myron in San Francisco, CT

"Quite a smooth and light fabric - I'm curious to see how it settles in through a few washes and fades, as it's certainly on the dressier end of a denim shirt"

Patrick in Winfield, IL

"Lovely deep dark colour"

MATTHEW L in London,

"Great denim"

Graham in Toronto, ON

"Perfect shade of blue. Was expecting it to be a little rough, but the fabric is smooth and wearable; it just looks rugged."

J. Mark in Sioux Falls, SD

"Such a great fabric. I hope another round of washed indigo is available soon."

GERARDO in FORT WORTH, TX

"Lovely fabric. Wears nicely. I travel a lot for work and this shirt goes everywhere with me. It dresses down nicely in the daytime and smartens up under a jacket at cocktail hour."

Clay in Brooklyn, NY

"Such great fabric and just the weight and fit I hoped it would be. Worth waiting on."

Pete in Balerno, Midlothian

"This one was hard since I don't think the phtoos do it justice. It's a bit darker, bit more shiny but definteily extremely good looking and super comfortable."

Paul in New York, NY

"Nice fabric; little more formal, dressier casual than envisioned"

Dennis in Dallas, TX

"Incredible rich colour as all the washed indigo shirts are, and a nice solid fabric. A really wonderful shirt."

Lindsay in Calgary, AB

"dressed up or down a winner."

Adam in Westminster, CO

"excellent"

Ben in Calabasas, CA

"The washed denim shirts feel like old friends when you open the box. A little worried this one may look overly faded soon because of the lighter shade. But that's okay, too."

Randy in White Bear Lake, MN

"Classic mid weight oxford"

Don in Salisbury, NC

"New favorite shirt. Pair it with anything you'd wear a blue OCBD with for a more modern look."

Thomas in CINCINNATI, OH

"I'm super happy with this color and fabric."

Michael in Denver, CO

"This fabric is better than expected. The color and feel are perfect. The only problem is I ordered a shorter length than I should have. That's my fault. The fabric however is the best! I guess I'll have to order the same shirt in a longer length next time it is offered because I plan on wearing it a lot."

George in Mobile, AL

"The denim fabrics proper cloth curated for these denim drops are always incredible fabrics. This is a beautiful, slubby lighter blue. I highly recommend it!"

Andrew in Rialto, CA

"Distinct and unique--not your typical denim. Highly recommend putting pockets to create interest."

Will in Fort Worth, TX

"Soft, lightweight, comfortable. Looks great with a darker pair of jeans or with khakis."

Marty in Elmhurst, IL

"All the washed PCs are exceptional, but I was very underwhelmed initially with this one. However, the patina is so beautiful and the color is nice and mellow so I've come around to this one."

Jacob in Waban, MA

"Beautiful color and hand feel; like a heavy poplin. Great with chinos and tan or grey jeans."

Jamie in New York, NY

"LOOOOOOVE this fabric! I wear this shirt when I fly across the country, for some odd reason. It layers well over t-shirts and somehow unwrinkles amazingly well after I've been smashed in my coach-class seat for 6 hours. Ha! Magic. I get lots of compliments from friends on this shirt in particular."

Vijay in Ithaca, NY

"Nice denim fabric. A bit lighter shade than I anticipated, but will be interested to see what kind of patina develops after a few washes."

Dylan in Dallas, TX

"Simple, yet complex. I love it. Offer some tips on how this should be washed, to achieve product longevity."

Elliot in Valley Stream, NY

"Very nice. Thinner feeling than expected though"

Rory in Bunkyo-ku, Tokyo

"I love this shirt. When you set it up right, it's the perfect level of casual meets polished. Looks good with the sleeves rolled up and few buttons loose. Looks good under a sport coat."

Stephen in KANSAS CITY, MO

"Great denim for fall!"

Richard in Randolph, NJ

"I like indigo, and this denim is excellent for both casual or business wear."

Gerard in Salt Lake City, UT

"My wife says this is her favorite one of my shirts. Looks great with khakis."

Steve in Leawood, KS

"handsome and very soft denim. A keeper"

Tom in Keller, TX

"Probably my favorite fabric of any shirt I own. I have this in a short sleeve and have thought about getting in long sleeve - both casual and dress. Brilliant color and weight."

Eric in ALEXANDRIA, VA

"Very soft a little thick and a little bright"

Zach in BROOKLYN, NY

"LOVE this shirt!!! Great casual look."

Herbert in New York, NY

"Supremely comfortable! Love this shirt."

Richard in Aldie, VA

"Relaxed elegance."

Benjamin in brooklyn, NY

"Very nice fabric - not quite as soft as I would like, but very pleased nonetheless."

Richard in HOUSTON, TX

"Have the whole lineup. Love the look and the fabric."

Michael in Richmond Heights, MO

"A soft denim, good deep blue color. Easily dresses up or dresses down. Flexible shirt."

Roger in Reisterstown, MD

"love the color not to heavy can wear all year round"

robert in Scottsdale, AZ

"I'm not happy with it"

Mike in Oklahoma City, OK

"Good color"

sung in Century City, CA

"Beautiful medium blue denim. Soft as hell and light enough for Texas summers."

Daniel in Fort Worth, TX

"I really love this blue denim."

daniel in Lake Oswego, OR

"Great color."

Glen in Los Angeles, CA

"Really nice hue and feel. I expect the fabric to age and fade well with subsequent washes."

Nick in Rhinebeck, NY

"Looking forward to casual Friday!"

Robert V in Toronto, ON
FAQs
How do I get started?

First, welcome to Proper Cloth. We specialize in custom dress shirts, suits, jackets and pants.

The first step would be to create a size using our Smart Size Quiz. We'll use your answers and data from thousands of satisfied customers to generate custom dress shirt sizes in your account.

To order, you can browse our gallery of curated, pre-styled options and purchase them, made to order in your custom size (and style, just click 'Customize' to modify).

Or

You can use our Design-A-Shirt tool to create a custom designed shirt from scratch, selecting the fabric and all style details (collar, pocket, buttons, etc), before applying your custom size! We highly recommend only getting one shirt to start so we can lock down the Perfect Fit (Guaranteed!).
How long does it take to have a custom shirt made?

Standard finish, casual wash, and non-iron shirts generally take 12 to 14 days to produce and deliver. In all cases, the promised delivery date range at checkout should be accurate (if not slightly conservative). Click here to see our typical delivery times based on product.

Orders including shirts with any style of Mother of Pearl buttons must undergo special Fish and Wildlife inspections that may cause delays. For this reason, the expected delivery date range will be extended by an additional 14 days.
Can I change the collar or cuff style? Can I add a pocket? Short sleeves? etc.

As a made-to-measure shirtmaker, we offer a wide variety of style features. Proper Cloth shirts can be styled with any of our 30+ different collar styles, 12 different cuff styles, and one of our 9 different pocket options can absolutely be added.

Just click the 'Customize' button next to any of our pre-designed, photographed shirts to edit the design however you wish!

Short Sleeve shirts can be ordered by specifying as such under the Cuff/Sleeve section of the Design-A-Shirt tool.
Do you make shirts that can be worn untucked?
How do I order a short sleeve shirt?
Do you offer rush delivery?

Rush delivery is not available for custom made products. With ready-to-wear and stocked products, we have a little more flexibility.
Still have a question? Get in touch
Ready to create your custom shirt size?
Answer 10 easy questions about your body and fit preference to create a custom size.
Our Perfect Fit Guarantee
If you're not entirely happy with the fit of your custom shirt (or anything else about the shirt) you can return it to us for a complimentary remake in a new size or style. We excel at making remakes quick and hassle-free. If remaking the shirt doesn't suit you, you can also return the shirt for a full refund.