Albiate Washed Grey Denim
$150
Select Shirt Size
Collar
i
Don't worry about shrinkage — we'll account for that automatically based on fabric choice. You can fine-tune your collar size down to 0.1" or adjust any of the 16 other customizable size parameters when you create a custom size.
Sleeve
i
Sleeve length is measured from the center back to the edge of the shoulder and down to the end of the cuff. Fine-tune your sleeve length down to 0.1" or adjust any of the 16 other customizable size parameters when you create a custom size.
Fit
i
Slim Fit will be nicely fitted, yet comfortable. Super Slim Fit is for those that prefer a particularly trim fit and are not bothered by slight tightness or limited range of motion. Classic Fit is a more generous, roomy fit that won't hug the body closely.
Shirt Style Details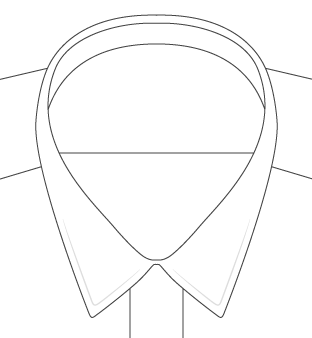 Soft Point Collar
A timeless point collar in a soft, unfused construction. Perfect for no-nonsense casual shirts.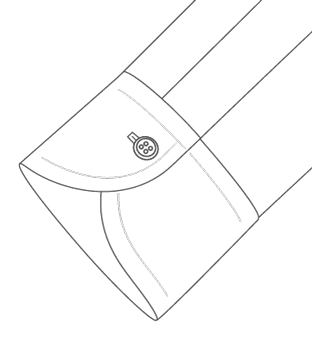 Soft Long One Button Cuff
The same shape as our long one button barrel, but without the stiff fusing. Soft, comfortable, and a good match for casual style shirts.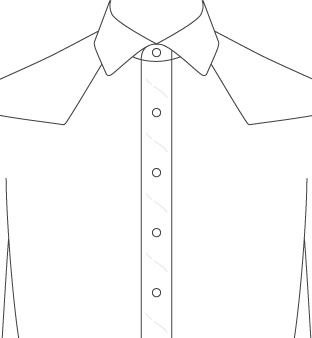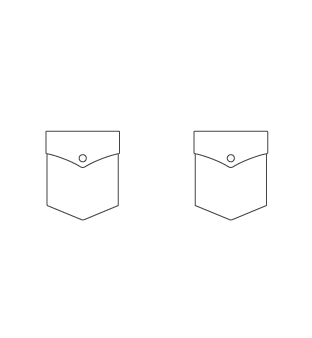 Western Front, Western Flap Pockets
Curved front yoke. Comes with soft front placket. Combine with Western back yoke and snap buttons for a true western shirt.
Buttons

Snap Buttons i

A beautiful off-white snap button. Slight color variation that replicates the look of vintage bone buttons. Perfect for a western shirt.

Bottom Hem

Rounded i

A 2" curved front and back shirttail hem with reinforced side seam gussets.
Change any of these shirt details, add a monogram, and more by customizing this shirt.
Fabric Info
Fabric Description
Grey denim at its finest.
This super soft and versatile 60s 2-ply denim works year-round, drapes beautifully, and looks fantastic as a Western shirt, overshirt, or dressed up under a sport coat. We give this fabric a soda wash for a faded, lived-in grey that looks both rugged and refined.
From sourcing the perfect denim from a 185-year-old mill in Italy to testing washes with our factory for months on end, we labor over every detail of our washed indigo shirts. Each of them starts out as a plain or textured weave fabric that's been dyed heavily with indigo. After being cut and sewn, the shirts are then garment washed using either a light enzyme, soda, or bleaching process. It's this process that gives each shirt its beautiful color and unique fading around the seams. While garment washed indigo and denim shirts are a popular product in the ready-to-wear market, they haven't previously been available in a custom fit or design due to the bulk production required for the washing process. We've worked closely with our suppliers to bring you the first truly custom garment washed indigo and denim shirts on the market. Premium, carefully crafted shirts, made to your exact specifications. Learn more about our washed indigo and denim shirts here.
Recommended Styling: Try this one with our Soft Franklin Spread collar, no placket, and Grey Horn buttons for a sleek casual look. Note that, due to the special nature of the garment washing process, this fabric can only be made using soft, unfused collars, cuffs, and fronts/plackets.
Color & Pattern

Performance
4.8 / 5 Average rating
Recommended by 94%.
"I didnt love this color. I was expecting more of a denim-like look but it was more of a faded gray."

daniel in New York, NY

"Just why I was hoping for"

Mark in SAN FRANCISCO, CA

"Awesome!"

Ron in New York, NY

"heavy fabric that feels like it'll last a very long time."

Christian in Park City, UT

"Absolutely great"

Matthias in Kontich, Antwerp

"Fit and feel quite good, fabric a bit shinier than I expected"

Corey in New York, NY

"Great weight, solid construction"

Tom in New York, NY

"Lightweight and beautiful color!"

James in CHARLOTTE, NC

"Soft and well structured"

Michael in Oconomowoc, WI

"Love it."

Scott in MOUNTAIN VIEW, CA

"very supple fabric"

Brian in Wilmington, DE

"Good shirt. Happy with it but it isn't as nice as some to the other shirts I have ordered so it gets 4/5"

Dustin in Squamish, BC

"Ordered for a casual office look and the shirt looks great."

Steven in Brighton, MI

"Very comfortable casual shirt Also able to be worn under blazer, for casual dressy look"

Joseph in Saint Cloud, MN

"Excellent weight and drape and color, wonderful with jeans"

Donald in SUGAR LAND, TX

"really like it"

SCOTT in Newport Beach, CA

"Classy look, fade is just right. Not too thick, going to enjoy wearing this shirt for a long time!"

Sujay in West Windsor Township, NJ

"Feels very durable. Looks great. Awesome casual shirt"

Sean in Toronto, ON

"This shirt is incredible. Love the color and look."

Dimitrios in NEWARK, NJ

"One of my favorite shirts."

Jon in Dobbs Ferry, NY

"A bit too casual for the price."

Alexander in Pleasanton, CA

"I like the fabric but haven't worn it yet due to sizing."

Craig in Deephaven, MN

"super esy to wear, right weight"

Michael in Kiawah Island, SC

"Great fabric"

Michael in HAMILTON, NJ

"Nice and soft, feels good"

Erik in Silkeborg,

"the base color is very nice with added nuance of washed treatment. also feels very soft yet seems very durable, plus nice weight not too thick."

Hiro in TRAVERSE CITY, MI

"Love this denim shirt"

erik in Hobe Sound, FL

"Excellent material"

David in New York, NY

"Awesome casual. daytime or going out at night"

Doron in New York, NY

"A really special denim fabric"

Adrian Ionut in SATU MARE SM, Satu Mare

"Best shirt I've gotten from PC"

Paul in Rye, NY

"❤️"

Tushar in Greenwich, CT

"Very soft and luxurious."

Jayce in LOS ANGELES, CA

"Great fabric, instant favorite"

Boaz in Chestnut Hill, MA

"It's ok. Smoother and lighter than regular denim so it feels good, but the bottom hem tends to curl which is a bit annoying."

Steven in White Plains, NY

"A unique and comfortable feel."

Alan in GLENDALE, CA

"The fabric is supple, luxurious. Highly recommend the shirt."

Victor in Coconut Grove, FL

"Nice and unique feel"

chris in Rehoboth Beach, DE

"Great feel and look that has hold up well."

Tomas in Portland, OR

"Love the fabric."

William in Palos Verdes Estates, CA

"Absolutely love this shirt. Looks great with jeans and cowboy boots."

Jason in KANSAS CITY, MO

"Soft feel, washed fabric for "just so" fading, medium light weight, so not too heavy and not too light."

Paul in Chippenham, Wiltshire

"As advertized"

Richard in South Burlington, VT

"Great short"

James in BROMLEY,

"Unique fabric/color, combined with the western style finishes and you cannot go wrong. Great shirt."

Ryan in HOUSTON, TX

"Shirt is great except the fabric made the sleeves wear longer than my other proper cloth shirts with the same sleeve length"

Josiah in Boone, NC

"It's a nice Jean fabric, not light nor heavy. Quality materials."

michael in LOS ANGELES, CA

"Very casual and cheap"

Imran in WASHINGTON, DC

"Comfortable"

Elias in Wilmette, IL

"I have several of these denim shirts and I probably like this one the most because of the color and thickness of the fabric. Very nice!"

Phillip in Dallas, TX

"super soft"

michael in New York, NY

"Took a flyer on this shirt and the fabric is much better than expected. Lovely color."

Christian in HOUSTON, TX

"The shirt is great for casual Friday and everyday casual attire."

Erling in ORLANDO, FL

"Perfect shade of grey. Velvety feel to the denim."

Colin in Brooklyn, NY

"beautiful, soft fabric. Its become an everyday shit"

Clifford in Telluride, CO

"Fantastic look and feels great!"

Eric in Minneapolis, MN

"I'm a bigger fan of the blue denim fabrics, but this provides an alternative (lack of) color."

Andrew in Cedarburg, WI

"Lighter than expected, matte color."

Mitch in Washington, DC

"best denim shirt I've ever purchased"

REMIL in SAN FRANCISCO, CA

"If they have denim shirts in heaven, this is what they wear. I want to sleep and shower with it on."

Matt in DENVER, CO

"hefty"

Naveed in VALLEY STREAM, NY

"Outstanding medium grey color. A 3 season shirt."

shelly in Newton Lower Falls, MA

"Sturdy fabric. Accurate to description."

Gage in Deephaven, MN

"My new favorite!"

Matthew in Hillsdale, NJ

"Sharp!"

Patrick in Greenville, SC

"Color is amazing, better than expected. Thanks"

Joe in ARLINGTON, VA

"Like the fabric very much good selection"

Mark in North Bay Village, FL

"Color is great, fabric is stiff"

Collin in BROOKLYN, NY

"A shirt fabric you won't see everywhere"

Mark in Lubbock, TX

"Great shirt. Perfect mid-level gray color."

Aaron in Bloomfield Hills, MI

"Solid grey denim. It looks slightly worn in but not beaten. It is medium weight but works well in different seasons. Western style has a sweet sleek modern western look."

Anthony in Coral Gables, FL

"Love this light denim texture - drapes well and looks good"

John in Toronto, Toronto

"I have several shirts in this fabric. Very please with fit and form. Easy to launder."

Gerald in Flintridge, CA

"This is NOT a dress shirt. After they make it, they stonewash it. It arrives looking 10 yrs old. It is also shrunken to smaller than the dimensions I ordered and doesn't fit."

Bryan R. in Norcross, GA

"The denim fabric I have been waiting for many years! Just perfect!"

Hugo in Macau, Macau

"Great"

Peter in Medford, MA

"Fit came out different than others in the same order. Unsure if it was a faulty fit. Fabric is beautiful."

Martin in Dalkey, Dublin

"A little lighter in color than the website, but fit well and didn't wrinkle much."

Robert in AUSTIN, TX

"Denim shirt is good but not great. don't love the material for a cowboy shirt."

Jay in CUMMING, GA

"Makes for a classic, foundational wardrobe piece."

Josh in Falls Church, VA

"Amazing color and fabric"

Michael in NEW YORK, NY

"Casual and comfortable."

William in Spartanburg, SC

"Very handsome"

Joseph in ALBUQUERQUE, NM

"Perfect weight and breathability"

Joseph in Phoenix, AZ

"great casual shirt"

EDWIN in GREENVILLE, SC

"Worth the wait, I see why this fabric goes quick! Great denim - soft, not to thick, will last forever and get more comfy over time."

Jon in Vista, CA

"Great color - true to images as a nice medium grey denim. Should work easily with a lot of thing. Super soft out of the box."

Nathaniel in SAN FRANCISCO, CA

"Great fabric"

Julian in Brooklyn, NY

"Awesome shirt, will last years."

Jacquie in North Las Vegas, NV

"A great casual rugged fabric."

Steve in Iqaluit, Nunavut

"I absolutely love this shirt! It looks like a work shirt but feels and wears like a broken-in, comfy, casual oxford. The only reason I dropped to 4 stars for color was that the dying process leaves some inconsistent light/dark areas. Definitely not a deal-breaker by any means. It's not a dress shirt, so it adds to th…e character."

David in FALLS CHURCH, VA

"So many compliments. Casual cool. Amazing resilient fabric. How a denim shirt should be !"

Neil in Huntertown, IN

"Get it in the western style."

Johann in Doral, FL

"Was not for me!"

Edward in SAN FRANCISCO, CA

"Love this shirt and wear it every chance I get."

Alan in Boston, MA

"Really high quality"

Nicholas in New York, NY

"Very good"

John in ROGERS, AR

"very nice fabric. color and feeling are wonderful"

vittorio in Roma, Lazio

"Love this fabric. Nice dark grey. Goes great with a pair of dark blue jeans and boots."

Michael in South Jordan, UT

"Great feel of fabric - love snap buttons."

Andrew in Mount Lebanon, PA
FAQs
How do I get started?

First, welcome to Proper Cloth. We specialize in custom dress shirts, suits, jackets and pants.

The first step would be to create a size using our Smart Size Quiz. We'll use your answers and data from thousands of satisfied customers to generate custom dress shirt sizes in your account.

To order, you can browse our gallery of curated, pre-styled options and purchase them, made to order in your custom size (and style, just click 'Customize' to modify).

Or

You can use our Design-A-Shirt tool to create a custom designed shirt from scratch, selecting the fabric and all style details (collar, pocket, buttons, etc), before applying your custom size! We highly recommend only getting one shirt to start so we can lock down the Perfect Fit (Guaranteed!).
How long does it take to have a custom shirt made?

Standard finish, casual wash, and non-iron shirts generally take 12 to 14 days to produce and deliver. In all cases, the promised delivery date range at checkout should be accurate (if not slightly conservative). Click here to see our typical delivery times based on product.

Orders including shirts with any style of Mother of Pearl buttons must undergo special Fish and Wildlife inspections that may cause delays. For this reason, the expected delivery date range will be extended by an additional 14 days.
Can I change the collar or cuff style? Can I add a pocket? Short sleeves? etc.

As a made-to-measure shirtmaker, we offer a wide variety of style features. Proper Cloth shirts can be styled with any of our 30+ different collar styles, 12 different cuff styles, and one of our 9 different pocket options can absolutely be added.

Just click the 'Customize' button next to any of our pre-designed, photographed shirts to edit the design however you wish!

Short Sleeve shirts can be ordered by specifying as such under the Cuff/Sleeve section of the Design-A-Shirt tool.
Do you make shirts that can be worn untucked?
How do I order a short sleeve shirt?
Do you offer rush delivery?

Rush delivery is not available for custom made products. With ready-to-wear and stocked products, we have a little more flexibility.
Still have a question? Get in touch
Ready to create your custom shirt size?
Answer 10 easy questions about your body and fit preference to create a custom size.
Our Perfect Fit Guarantee
If you're not entirely happy with the fit of your custom shirt (or anything else about the shirt) you can return it to us for a complimentary remake in a new size or style. We excel at making remakes quick and hassle-free. If remaking the shirt doesn't suit you, you can also return the shirt for a full refund.