Clothing for Every Body —
Our mission is to inspire and enable you to look your best and fulfill your potential by making high quality, better-fitting clothing.
A Unique
Approach
Founded in 2008, Proper Cloth is a pioneer and leader in quality custom-fit, made-to-order shirts, pants, jackets, and suits. We remain unique in our approach, combining technical innovation with premium materials and tasteful clothing design.
Technology
From the beginning, we imagined a smarter way to approach tailoring—one that leverages modern technologies. We've pioneered best-in-class fit prediction algorithms and 3D visualization tools that allow customers to create custom sizes, modify designs, and manage orders. Our proprietary systems enable us to deliver premium quality products with personalized fit, and an exceptional customer experience, all at a competitive price point.
Design
Great design is at the heart of what we do. We aspire to create beautiful, functional, timeless pieces that are made to last. Every season we develop a curated selection of fabrics from the world's finest mills, pairing them with elegant design details that rival even the most prestigious luxury brands. And uniquely, much of our clothing is available in a custom fit, tailored to you personally, to make you look your best.
Proper Cloth has become a go-to source for made-to-measure shirts for even the most discerning menswear customer.

One of the most successful made-to-measure e-commerce sites there is – attribute that to tasteful fabrics, fast delivery times, and an easy shopping experience.

Our new favorite online custom shirtmaker…
How it Works
Create Your Custom Size We've made it incredibly easy to create your custom sizes for shirts, jackets, and pants, even from the comfort of home.

Find Your Style Browse our designs, lookbooks, and style guides to shop straight from our collections. Or design your own, exactly how you like it.

Custom Made Each garment is made-to-order, to your precise specifications, and quickly delivered to your door.

Guaranteed Fit If it's not a perfect fit, we'll alter or remake your shirt, suit, jacket, or pants for free — guaranteed.
Custom Fit.
Made Smarter.
If you're particular about how your clothing fits, you're in good company. Our unique custom size platform gives you full control for dialing in your custom sizes, with 0.1″ increments, various posture options, and more.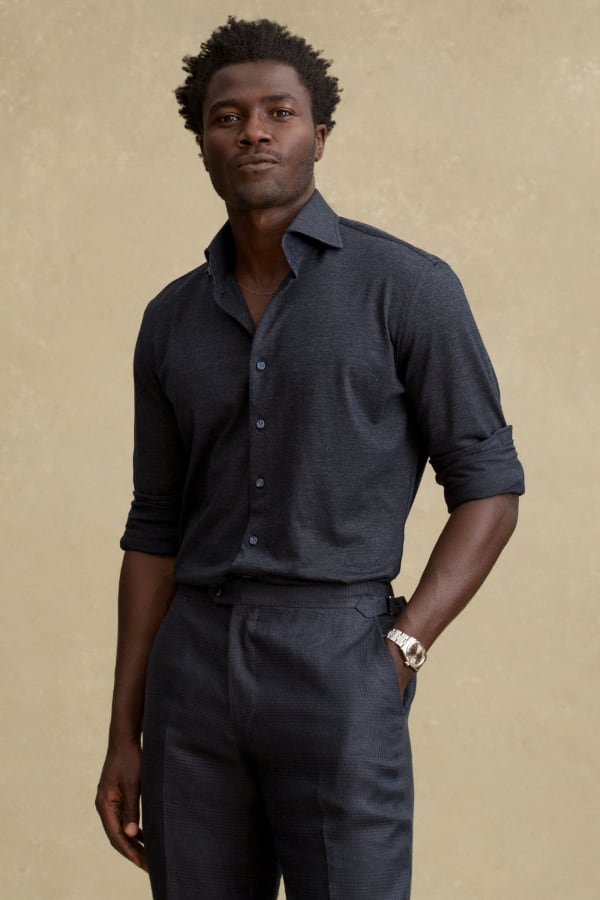 Your sizes are saved on your online profile, where you can make any changes at your convenience. We work hard to make things as intuitive as possible, providing explanations of how each size adjustment works online. But if you need help, our well trained team of fit experts is standing by to assist.
Our Story
In 2008, I set out with a simple idea: to make it easy to buy custom dress shirts that fit perfectly.
Proper Cloth wasn't an instant success. The first two years were particularly humble. I didn't have a background in fashion and didn't have investors or industry connections. I was a team of one, working out of coffee shops and a shared office space in Union Square. Our original manufacturing was slow, fabric selection limited, and our website was confusing. And shortly after launching, there was the financial crisis.
But we believed in this simple idea, and stuck with it. We became immersed in the worlds of shirts and fabrics, of ecommerce and user interface design, and of manufacturing and logistics. Slowly but surely Proper Cloth added new customers. And after a few years, we grew into a small team. Our strategy was simple: listen closely to our customers, fix problems they identified, and add features they requested. Steadily, we grew.
For years we focused exclusively on custom shirts and the digital shopping experience. We continuously reviewed and refined everything about the ordering experience and the shirt itself. We created our own machine-learning algorithm called Smart Sizes, to make it easier to create a custom size from home. We added new collar and cuff styles. We sourced fabrics from mills all over the world, eventually producing our own designs. And we created special tools for customers to manage their orders and sizes online.
In 2013 we moved into our first dedicated office and opened our first physical showroom … at the top of a 6th floor walkup. Customers unphased by the graffiti-covered facade and flights of rickety stairs discovered our tiny loft, with a single fitting station and handful of shirts on display — all next to our team's four desks. Over the next few years, we incrementally expanded the size of our office and showroom (and even got an elevator!).
In 2019, after years in development, we launched custom Tailored Clothing, including suits, jackets, and trousers. We applied what we learned from custom shirts to these new categories, but we still had more to learn. As before, we listened to our customers and incrementally improved these products over time.
In 2020, the COVID-19 pandemic changed the world, and the way we did business simply stopped working. We closed our showroom, started working from home, and began meeting with customers virtually. We launched a premium face mask, winning endorsements from Forbes and Wirecutter, we launched custom chinos, and we produced our first runs of t-shirts and sweatshirts.
But there's still more to do. 15 years in, our mission endures. We continue to focus on making the best custom shirts, pants, and suits we can possibly make, while improving the experience of buying custom clothing. We are fully committed to building a leading menswear brand, as well as a great company. We stand behind our products. We take pride in what we do. We hope you will too.
Seph Skerritt,
Founder/CEO
Our Custom Products
Each of our made-to-order products come with a range of premium details and design options. Here are some key features that set our designs apart.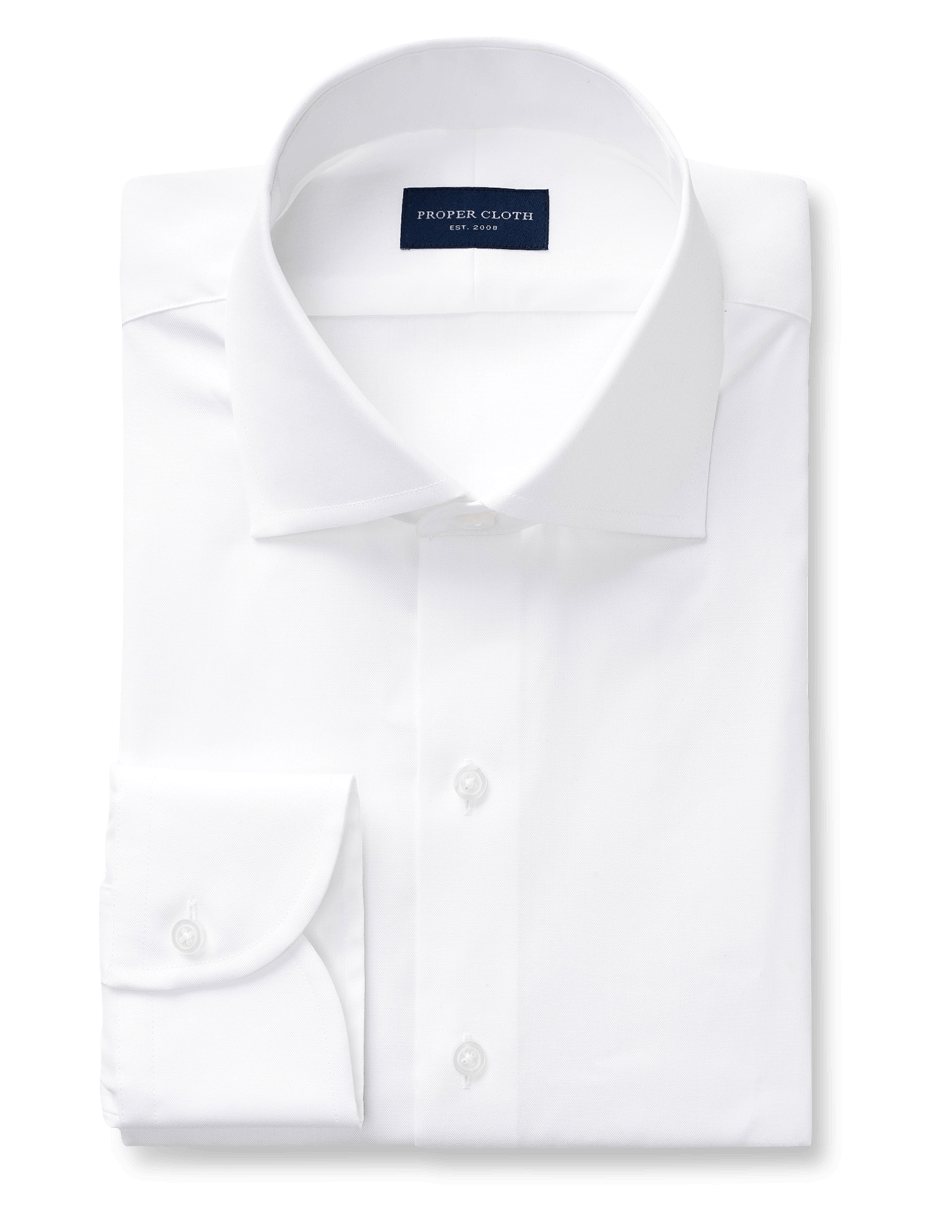 650+ fabrics to choose from, new styles added each week
Fully custom sizes
Split yoke cut on the bias
Mother of pearl buttons*
Removable brass collar stays
Spare buttons included
Minimum of 16 stitches per inch
Reinforced shirt tail gussets
Buttons securely attached with heat-sealed shank
Fused as well as soft unfused collars and cuffs
*

Optional
90+ fabrics to choose from, new styles added each month
Fully custom sizes
Unstructured, half-canvassed and fully canvassed* constructions
Real horn buttons
Functional button holes on cuffs
Bemberg lining on trousers and jackets
For lined jackets, pleat in lining at center back for comfort/movement
Generous allowances at seams for flexible tailoring
*

Optional
75+ fabrics to choose from, new styles added each month
Fully custom sizes
Reinforced cuff
Bemberg lining to below knee on trousers
Metal hook with dual button closure
Reinforced ends of pocket openings
Fork stay/lining (diamond shaped fabric piece below the fly)
Curtained waistband
Two/double button "French fly"
Split waistband "after dinner split"
Adjustable side tabs*
*

Optional
Building a
Great Company
Our goal is to build a leading menswear brand – but we're also committed to building a great company.
We strive to create a positive work environment where employees can grow into their potential as professionals. We support diversity, believing that our differences, when combined into a united team, make us stronger. We pay close attention to our supply chain, working exclusively with ethical fabric mills and factories that respect their workers.
We are mindful of our impact on the environment, and are continuously looking for ways to be more sustainable. And lastly, we are thankful for the opportunity to participate in efforts to give back to those less fortunate.