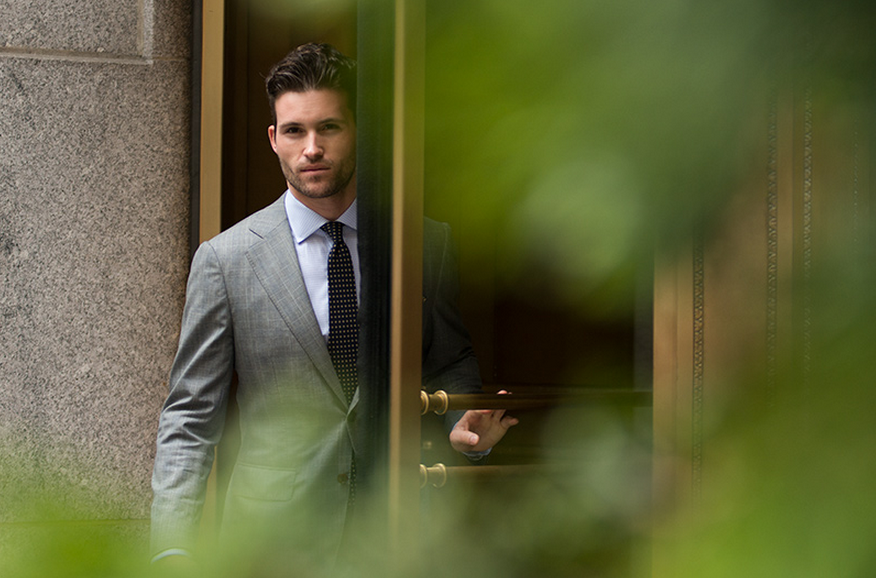 Maybe you want to pursue social entrepreneurship and end hunger in Africa? Maybe you want to improve your quantitative finance and team building skills so you can increase the value you deliver to clients? Or maybe you heard business school is a chance to drink beer like you did in college and still make a lot of money two years later.
Whatever your reasons, you applied to business school. You aced the GMAT, your letters of recommendation (written by Jack Welch) say you are the second coming (of Jack Welch) and your essays articulately convey that you are a well-rounded, analytical, team player/type-A leader with uncompromising ethical standards.
And you got the interview. Congratulations. You just increased your chances of getting in to a top MBA program from 0.1% to 1%! Now, it's time to get dressed.
Let's be clear. What you wear to a business school interview DOES matter. Forget everything your mother told you about "it's what's inside that counts." Top tier business school programs are a conservative group and they want candidates that look the part. Guys – this means a formal, conservative suit and tie (even if the lady from Stanford wants to meet you in a coffee shop and you know it will look ridiculous) and nice leather shoes.
So, to help you prepare, we called up interviewers at Harvard Business School, Stanford, and Rod Garcia, the head of admissions at MIT Sloan, and asked them what their advice is. Here's what they suggested.
Follow the interviewer's lead
Your interviewer has a rough idea of the stress you're going through and friendly ones will try to help you out. However, it's rare that they tell you exactly what to wear (and it would be totally inappropriate to ask). Take their lead, but play it conservatively. For example, if you're on the west coast and the interviewer mentions "I will not be wearing a suit", this is not a green light for you to wear jeans and a t-shirt. In this situation, the safe bet is to still wear a full suit (even if you've never worn a suit before). Depending on the location of the meeting you could consider skipping the tie, but think twice. Remember, they will NEVER think less of you if you overdress. The only exception is if they explicitly tell you not to wear a tie. This could be worded as "come by my office, by the way, we're pretty casual here, we have a no tie policy, so no need to dress up". In this case, you wear a suit minus the tie.
Ok, let's go back to the VERY beginning. You need to remove the label from the suit cuff. If you don't, it's a dead giveaway that you've either never worn a suit before or were planning to return the suit after the interview. Either way, not in your favor.
While we're at it, that temporary stitching that holds the side vents or center vent of your jacket together at the rear bottom should also be removed so that the vents can open.
Don't show too much cuff
If the sleeves of your suit are too short and the sleeves of your shirt are the right length, your shirt cuff will show too much. Try your interview outfit on in advance and make sure this doesn't happen. Between .25″ and .5″ of exposed shirt cuff is your sweet spot.
Avoid shirt and suit wrinkles
This is a stressful time and you have a lot going on. You may have even driven from San Diego to LA in a car with no air-conditioning and rendezvoused with an old girlfriend the night before. It's no excuse. Plan ahead to have both your suit and shirt perfectly pressed.
White shirt with red or blue tie
Save the blue dress shirt and yellow tie combo for another day. When we say "conservative" we mean a boring dark gray or dark blue suit, white pinpoint oxford cloth dress shirt (with undershirt), simple dark red or navy tie, and dark brown leather shoes.
Keep the tie tight
If you wear a tie it should be tight. The top button of your shirt should be buttoned and the tie knot should be up against your collar band. Loosening the tie a couple inches may be more comfortable but it  looks less put together. MBA interviews are not aced by looking comfortable. MBA interviews are aced by looking like you belong on the cover of business week with the headline "CEO of the Year" over your smiling face.
Shave
You might look like you're 18 years old when you shave, and you're trying to make your 1.5 years of work experience sound more like 3. But, there's no way around this, no matter how cool you think scruff makes you look. Show up to your interview looking like an extra from season five of LOST and you won't be doing yourself any favors.
Keep everything clean
No lunch on your tie. No ring around your collar. No sweat stains under your arms. Obviously.
Avoid anything trendy
Skinny ties: no. Suede double monkstrap shoes: not this time. Glen plaid soft-shouldered suit: leave it at home.
Avoid button down collars, cutaway collars and contrasting collars
Avoid a shirt with a button down collar.  Some button downs will make you look too humble, and others are just too casual.  Also avoid any dramatic cutaways or contrasting collars.  These will make you look too cocky.  Play it safe with a timeless spread collar.
Finally, just make sure you look put together
If you have no sense of style ask a friend that does. There are a couple situations where obsessing over what you wear is acceptable: high school prom, your wedding day, and your MBA interview. Don't feel bad, get it right.